Bilder - MC NASON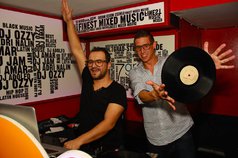 Über MC NASON
EVENTS / WERBEBRANCHE / MC / ENTERTAINER
Referenzen:
7GRAD STUTTGART
BUSHIDO / EVENTPALAST
KOLLEGAH / EVENTPALAST
DADA LIFE / EVENTPALAST
LAIDBAK LUK /EVENTPALAST
MÄXLE STUTTGART
MASH STUTTGART
BARCODE STUTTGART
MADE IN ISTANBUL
ORIENT CLUB
SPAGHETTISSSIMO STUTTGART
T-O12
HACIENDA STUTTGART
PROTON STUTTGART
PENTHOUSE STUTTGART
PERKINS PARK ( 90er)
CLUB 29
SMIRNOFF RED PLANET
DREAM FESTIVALS
SEA OF LOVE
NATURE ONE
FATMAN SCOOP & FALKO RICHTBGERG ( SCHWÄBISCH HALL)
BIG FM STADT LAND CLUB
BIG FM 1.2.3 ( PENTHOUSE STUTTGART )
HAUPTQUARTIER
SOMMER TAG TRAUM ULM ( DAVID GUETTA )
STREETPARADE ZÜRICH
PIETRO LOMBARDI & SARAH ENGELS UVM. ARENA LUDWIGSBURG
EVENTBRINGER SHUTTLEBUSSE
DIGINIGHTS
ONETASTE
XXL ABIPARTY
STUTTGART LAUSCHT
VICIOUS LOVE (Le Shuuk )
WHITE ELECTRONICA
ABIPARTY DELUXE PENTHOUSE
ROYAL CASH ( SI CENTRUM)
BROWN SUGAR ( PROTON )
SET IT OFF ( PROTON )
SPOTLIGHT ( ROMY. S )
GLAMOURS LIFE (AMICI)
STUTTGARTS GROSSES MUSIKFESTIVAL ( PALM BEACH )
DJ ANTONIE ( PENTHOUSE STUTTGART )
BOULEVARD OF DREAMS ( KÖNIGSTREET )
LEX JUKEZ
BOA FASCHING
PROJECT SOUTH PRES. MARCO BAILEY
SASCHA KLANGREGLER
VISUAL NIGHT ( T-O 12 )
FRIDAY IN LOVE ( AER CLUB )
ABI ATTACK WASENWIRT ( FRÜHLINGSFEST STUTTGART )
HAPPY EASTER ( CLUB CAPPO CITY DEPARTMENT )
GÖCKELESMAIER
RANDALE ( T-O 12 )
BOA ( PLAYER'S NIGHT )
ROCKHAUS 9 PM
FROM HOLLYWOOD TO ST. TROPEZ ( T-O 12 )
I LOVE HIP HOP ( PENTHOUSE STUTTGART )
BUDDHA LOUNGE ( ADRIATICA )
MIKE MORRIS & MIKE WALL ( FINCA STUTTGART )
IBIZA LIKE GLAMOURS
OZ RELOADED
DISCOSTOFF TOY STUTTGART
TURKISH DELIGHT
BIG FM NACHTFLUG
TRESOR ROCKS SONDERSCHICHT
GERÄUSCHE @ TUNE CLUB TUTTLINGEN
CANDY LOVE
CLUB ROCKKERZ
CASANOVA LATIN & HOUSE
OGOECH & DEN -NOIZER
OUTSIDE ART BASEL
LIGHT IT UP ( PROTON )
HÖRSTIMULANZ
FOREVER DANCE NIGHT ( BOSCH AREAL)
DEEPTHROAT STUTTGART ( BOA )
ORIGNALZ CLUB STUTTGART ( BOA )
WE LOVE WHITE ( PENTHOUSE STUTTGART )
DER FERIENDONNERSTAG @T-O12
FICKEN PARTY ( CLUB 29 SCHWÄBISCH GMÜND )
ZUMBA® FITNESS
PARADIES CITY EXPERENCEC
GENTLE SOUL ( PARIS STUTTGART )
ARDIAN BUJUPI - LIVE IN CONCERT - PENTHOUSE STUTTGART
SOS - SOUND OF SUMMER
-112 LIVE ON STAGE PRÄS. VON NASTY ENTERTAINMENT UND DIRTY GLAMORUS
TRESOR ROCKS SONDERSCHICHT
MILLION STYLEZ "MISS FATTY " LIVE ON STAGE/ FRESH SUMMER PARTY
ELECTRO HOUSE FABRIC" ( EVENTPALAST KIRCHHEIM )
ORIENT CLUB WITH BAKI CENGIZ FEAT. VIOLLIN DENIZ
SPRINGSESSION STUTTGART
LASERCLUB 3 D ( PENTHOUSE STUTTGART )
ONETASTE COMMUNITY TREFFEN
KONZERT MIT DEN BEAT HOLES
DASDING //DIGINIGHTS //NIGHT OF THE STUDENTS // ZUM WASENWIRT
TRASH POP
JUICY TUNES ( PARIS )
DJ BATLLE @ PARIS STUTTGART
NIGHT OF THE STARS
SHUTTLE ZUR WOK WM 2011
CORSO BAR
ELECTROBASS WITH SEAN FINN
STUTTGART GOES CRAZY
URBAN NIGHT
DIGINIGHTS PRÄSENTIERT FEEL THE DIFFERNCE // AB 16 JAHREN // BOA //
GOODVIBES@ THE PARIS
TRUE SOUL FR/04/02/11 UNDERWORLD B2 LOUNGE
ES-KALATION
IBIZA FUCKING ISLAND
DJ NEWCOMER CONTEST ( PROTON )
DJ ANTOINE LIVE @DICK AREAL ESSLINGEN
HALLO JAPAN LABELSHOW
STARSHINE BOOKING PRESENTS M4 UK NEWCOMER LIFE
FREAK OUT ( DICK AREAL ESSLINGEN )
FANTASTIC FRIDAY
SHUT UP PARTY ( THE PARIS )
TASTE IT (THE PARIS )
FREAK SHOW ( AER CLUB )
DREAM BOWL FELLBACH
DIABOLIKA ( PENTHOUSE STUTTGART )
SKILLS & STILETTOS, THE OFFICAL SEXION D ASSAUT AFTERPARTY
FATMAN SCOOP ( PENTHOUSE STUTTGART )
DISCO ONE ASCHAFFENBURG  
» mehr laden ...